The types of cosmetics are liquid, emulsion, cream and powder. It does not have a beautiful visual appearance, so it must be beautifully packaged before it can be put on the market for sale. Cosmetics are completely dependent on packaging, through the perfect packaging to reflect its characteristics.
Packaging and display are an incredibly important part of marketing. Make sure your products stand out from the crowd by creating your own custom packaging with the bottle, jar, and packaging design and manufacturing experts at Panyue Bottle.
How to magnify the beauty of glass bottle?
How to upgrade glass Bottle appearance?
Decorating firing, spraying, electroplating, frosting, screen printing, hot stamping, thermal transfer printing, etc.
1. Silk Printing
Generally, it is used as the graphic identification processing process of packaging products, which has an important impact on the product image, so it has high technical requirements.
Process: Net binding - sizing - drying - plate drying - developing - drying - flat glass - cutting - edge grinding - cleaning drying - printing and sintering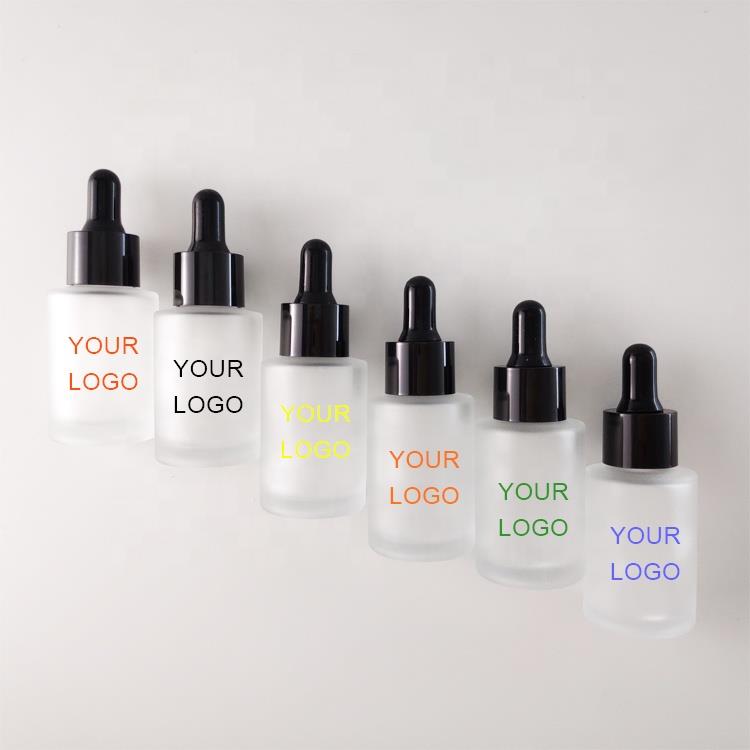 2. Frosting & Sandblasting
1) Frosting refers to immersing the glass in the acidic liquid prepared well (or daub acidic paste), corroding the glass surface with strong acid, and ammonia hydrogen fluoride in the strong acid solution makes the glass surface form crystals.
2) Sandblasting is a kind of work that uses compressed air as the power to push the abrasive to the workpiece surface for processing.
Both frosting and sandblasting are used to cover the surface of the glass, allowing light to scatter relatively evenly through the lampshade.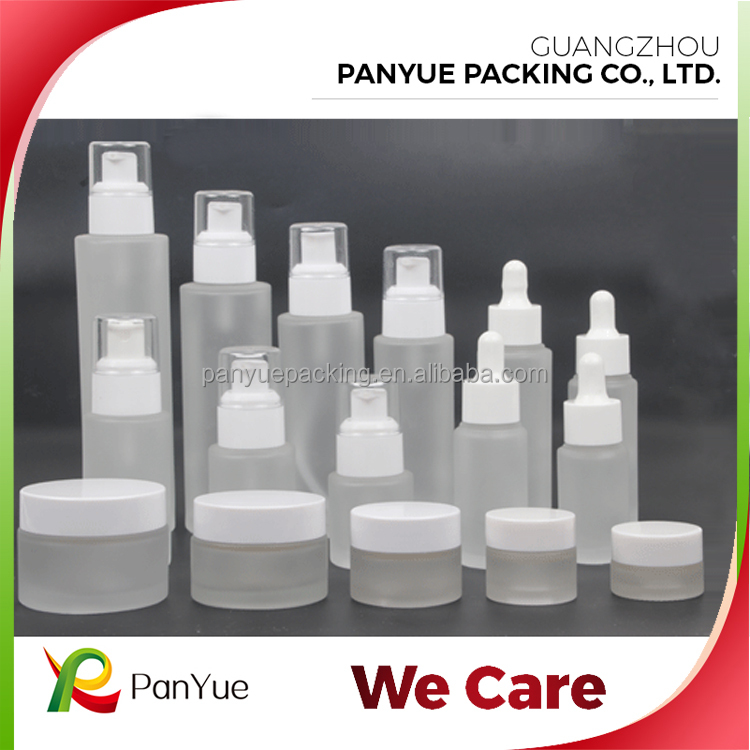 3.Spraying painting
To add color to transparent glass is not so convenient work, it needs to have a complex process.
Process: Pre-treatment (pre-stripping, main stripping, surface conditioning) - preheating - soot blowing purification - dusting - drying
Glass bottle coating is divided into transparent color, solid color (light and matte); According to the spray part is divided into gradient spray color, full spray color, mixed and matched spray color.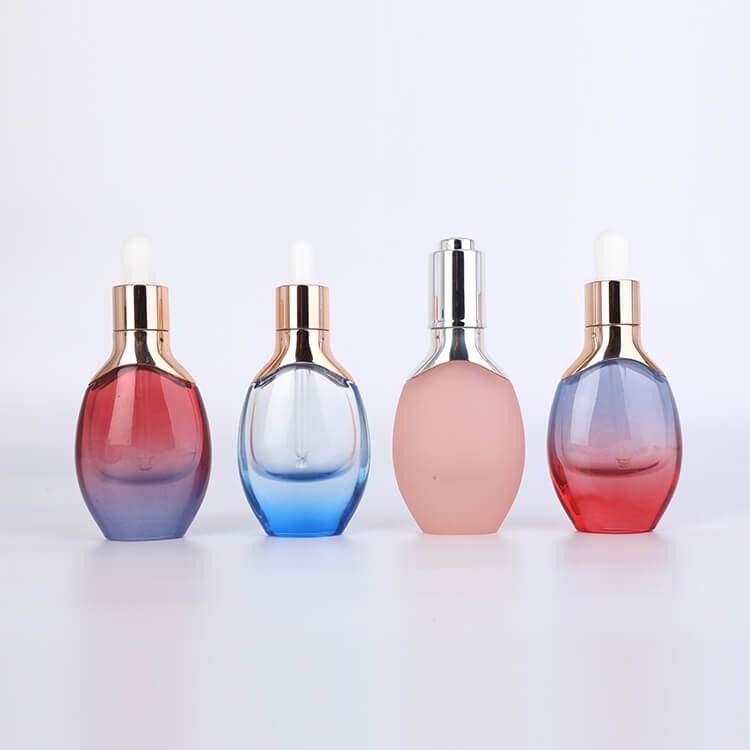 4. Electro-plating
Is using the principle of electrolytic plating on some metal surface on a thin layer of other metal or alloy plating process, is the use of electrolytic action made of metal or other materials adhered on the surface of the parts of a layer of metal film technique to prevent metal oxidation (rust), improve the wear resistance and electric conductivity, reflective resistance, corrosion resistance, copper sulfate, etc.) and create beautiful etc. Many coins are also electroplated.
Process: (Polishing) - Hanging - Degreasing - Washing - (Electroplating or Chemical Polishing) - Pickling Activation - (Pre-Plating) - Electroplating - Washing - (Post-Treatment) - Washing - Drying - Hanging - Inspection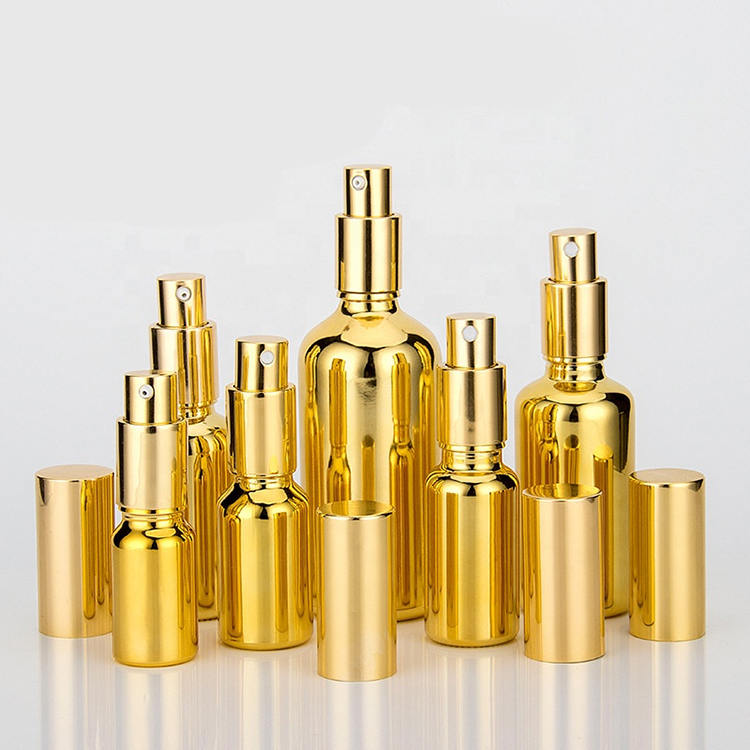 5. Hot stamping
In order to improve the beauty of glass bottles, the surface of the glass bottle using stamping process, so that the surface of the glass bottle presents a metal effect pattern, to improve the grade of glass bottles and beauty.
Bronzing process is to use the principle of hot pressing transfer, the aluminum layer in the anodized aluminum transfer to the substrate surface to form a special metal effect, because the main material used for bronzing is anodized aluminum foil, so bronzing is also called anodized hot stamping.
Process: Surface pretreatment (degreasing, dusting) - Screen thermoplastic layer -UV curing - Hot stamping - baking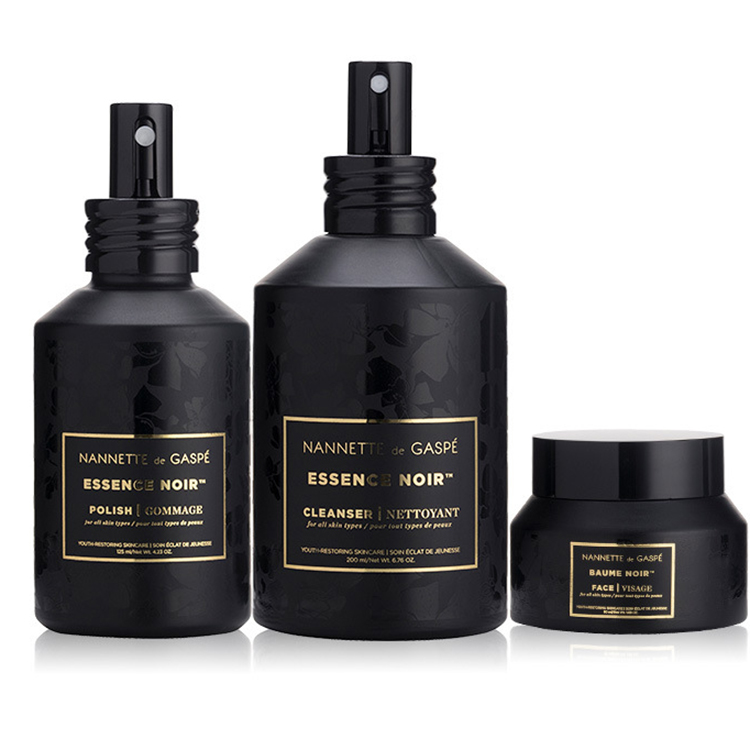 >Beauty Ranking:
★★★★★ Silk printing
★★★★★ Frosting & Sandblasting
★★★★★ Electro-plating
★★★★ Hot stamping
★★ Thermal transfer
★ Decorating
Panyue packaging is a professional manufacturer of glass bottle, if you are looking for cosmetic skincare bottle, contact us is the best !